Biotec: Driving a more circular economy
Biotec is a biopolymer manufacturer based in Emmerich am Rhein. Together with converters and processors, the Biotec team develops and produces bespoke plant-based polymer compounds to satisfy specific parameters and legislative requirements. A new corporate design and website are created to reflect a new, focused, proactive brand position, and core values that better differentiate the brand and resonate with its audience.
Biotec's advanced biopolymer compounds are made from GMO-free industrial crops, plasticiser free, and biodegradable at home or in industrial facilities. With a growing family of biopolymer grades intended for a wide range of processing methods and applications, Biotec uses resources that originate and return to nature to create and drive a more circular economy, with the aim of building a better tomorrow.
To achieve this objective, Biotec sought a new corporate identity that would set them apart from their competitors, and a new visual toolkit to better communicate their expertise, intentions, and product features with their stakeholders.
A visual scan of the existing brand highlighted the lack of a coherent design system. This and a nondescript graphic language that blends into the competitive landscape means inconsistencies exist between media and communication channels, diluting the core brand experience.
To reflect the new brand position and values, a clean, dynamic and transformative visual identity was designed, setting the Biotec brand apart from competitors. From logotype to colours, from font to photography, an extensive and robust toolkit of identity elements was built to balance the soft and human with the energetic and technical.
The team collaborated with format.otf to create the custom variable display typeface Embrica Decora, from which the new wordmark is developed. The geometric construction and exaggerated proportions of the stretched glyphs form a bold, expressive, technical, and instantly recognisable visual language.
Pangea Text, a beautifully crafted text typeface from Fontwerk is selected for use in longer copy. The font offers optimal legibility in running texts, and counters the display typeface with a more neutral stance, softer appearance, diagonal terminals and slight ink-traps.
Using the capital B glyph as a reference, a new emblem is created by reflecting its curved form over a diagonal axis. It complements the display typeface and is used independently from the wordmark. The emblem replaces the wordmark when placed in close proximity to the display type.
The new colour system uses varying amounts of white, light and dark earth-tones, and a rich forest green to echo nature. A bright moss accent highlights point of focus and signifies activation and action. Colour ratios can be adjusted based on application and target audience to strike the right tone of voice.
The new brand design language and its visual building blocks are brought together for the first time on a new website. Based on a refined site structure and clear user-flows, pages are assembled from a functional, modular, responsive and scalable digital design system.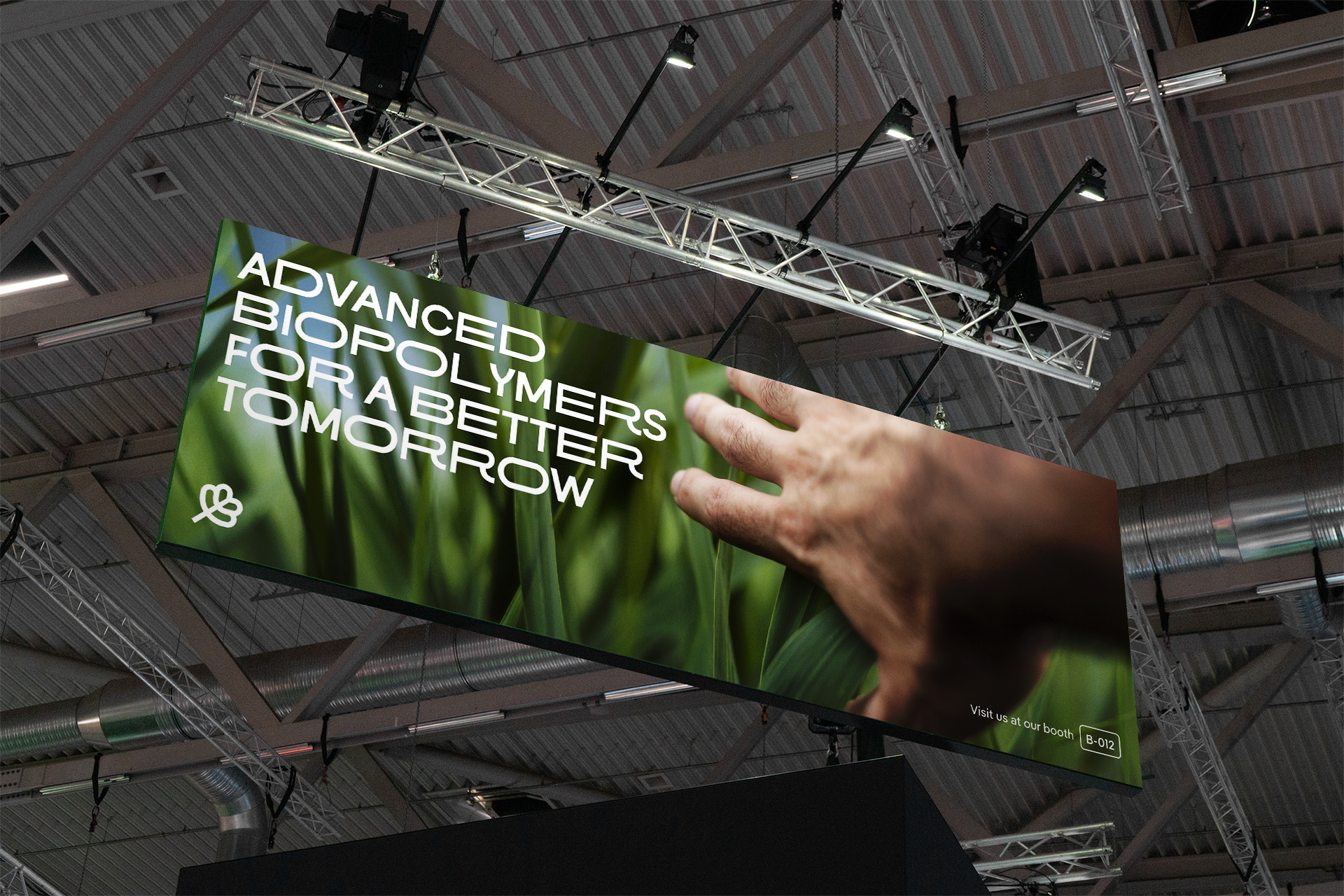 Client
Biotec Naturverpackungen
---
Brand design
Monospace: Jonas Vogt, Daniel Albert
---
Digital design
Monospace: Jonas Vogt, Christoph Buettner, Paul Mang
---
CGI
Neo Motion Studio
---
Motion Design
Monospace: Lennart Kramp